Students usually find themselves in hot water managing their college and work along with CAT preparation. In such a scenario, Night classes serve the purpose. It is important to find the right balance between your CAT preparation and College. The same applies to working professionals. FundaMakers brings to you the most authentic and relevant study methodology for aspirants who are in crunch of time for CAT preparation.
Who can take Night Online Classes for CAT ?
Working Professionals who are in crunch of time.
College going students who can't find time during day time.
Repeaters who have already taken CAT once.
What is the Schedule of Night Online Classes for CAT ?
The schedule of Night Classes is at 9 pm from Monday to Friday. The classes are usually of 1.30 hrs. However, The classes may stretch a bit longer (upto 2 hours) sometimes.
What Study Material is offered in Night Online Classes for CAT?
The study Material for Night Online classes for CAT is exactly what you get in a regular batch. Study material includes:
1. 9 printed books couriered to your place.
2. Everyday class handouts.
3. 4 E-books of Maths, English, Reasoning and DI.
4. 250 topic tests
5. 60 Sectional Tests
6. 20 CAT full length tests.
7. 20 FundaCATs – All India CAT Mock Tests
8. 30+ Other Mock Tests for XAT, SNAP, IIFT, NMAT, TISSNET, CMAT etc.
9. Regular Doubt Sessions
10. GDPI-WAT preparation for 3 months.
11. Recording of all classes available through out the year.
What Platform is used for Night Online Classes for CAT?
We use google meet for Night classes for CAT for better one to one interaction.
Can I visit the physical centers for my doubt solving if I opt for Night Online Classes for CAT ?
Yes , You can visit the offline centers of FundaMakers if you want to sit with faculty members for your doubt solving.
Can I take a few demo classes for Night Online Classes for CAT?
Sure, you can definitely go for a few demo classes. Usually the registration fees is Rs. 1000 which is adjusted in the fees you pay afterwards.
Till when is Syllabus completed in CAT Night Online Classes?
It takes around 28 weeks to complete the whole syllabus. After syllabus completion, revision classes and OMET classes happen. Also, Everyday tests are given as assignments.
What is the course structure of CAT Night Online Classes ?
The course structure is of CAT online classes is given below-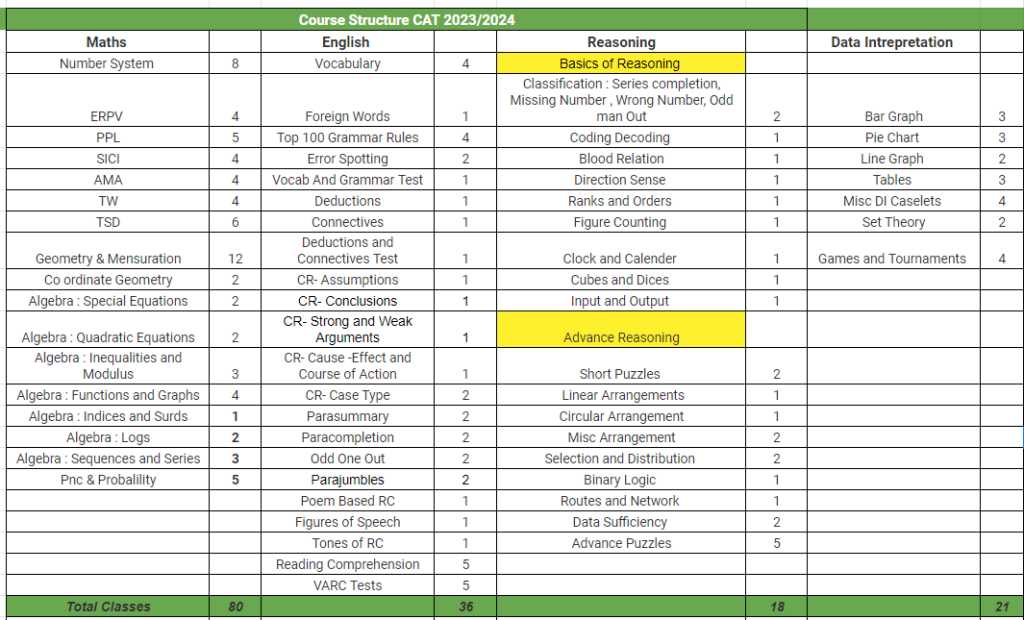 What are the results of FundaMakers CAT Online Classes- Night Batch?
We have a 100%iler in CAT 2022 from Night Classes for CAT. Need we say more😁. Click to know more !
How can I Join CAT Night Online Batch?
Its very Simple ! Just Call on 9598333344. Even a Whatsapp message will do !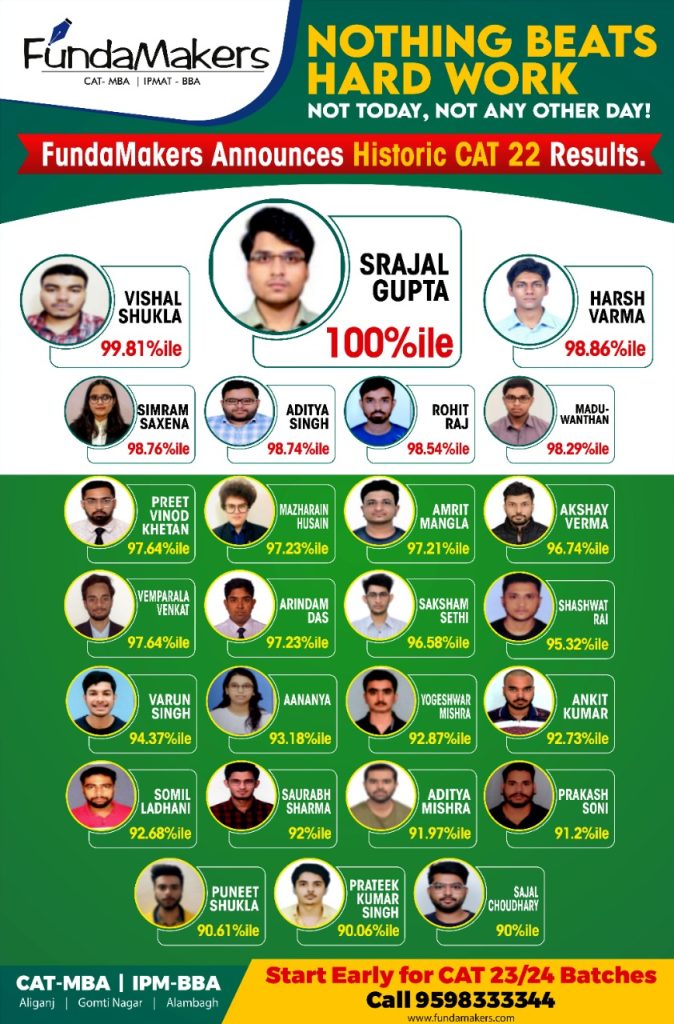 Recommended article for you : How to prepare for CAT in 6 months?
Read More: JIPMAT 2023 Cut Off ! https://fundamakers.com/jipmat-2023-analysis-and-expected-cut-off/(opens in a new tab)
Take a look of our other blogs :
1 https://fundamakers.com/gdpi-classes-in-lucknow/
2 https://fundamakers.com/maths-tips-for-beginners-for-cat/
3 https://fundamakers.com/cat-coaching-in-lucknow-fundamakers/
4 https://fundamakers.com/download-a-z-list-of-idioms-and-phrases-for-exams/
5 https://fundamakers.com/mastering-syllogisms-a-beginners-guide/
6 https://fundamakers.com/how-to-prepare-for-cat/
7 https://fundamakers.com/cat-night-classes-online-mode/
8 https://fundamakers.com/cat-percentile-predictor/
9 https://fundamakers.com/iim-call-predictor/
10 https://fundamakers.com/10-golden-rules-to-ace-the-iim-interviews/
11 https://fundamakers.com/cat-2022-score-vs-percentile-prediction/
12 https://fundamakers.com/the-best-cat-coaching-in-lucknow/
13 https://fundamakers.com/cat-2022-notification-important-dates-pattern-fees/
14 https://fundamakers.com/cat-results-fundamakers/
15 https://fundamakers.com/cat-scholarship-test/
16 https://fundamakers.com/how-to-prepare-for-cat-from-april/
17 https://fundamakers.com/iim-kozhikode-interview-experience/
18 https://fundamakers.com/how-to-crack-cat/
19 https://fundamakers.com/how-hard-is-the-cat-exam/
20 https://fundamakers.com/cat-exam-syllabus/
21 https://fundamakers.com/cat-d-day-tips/
22 https://fundamakers.com/how-to-improve-vocabulary-for-cat/
23 https://fundamakers.com/cat-online-coaching-know-everything/
24 https://fundamakers.com/tips-tricks-to-solve-odd-one-out-questions-in-cat-exam/
25 https://fundamakers.com/what-not-to-do-during-cat-preparation/
26 https://fundamakers.com/tips-and-tricks-to-solve-para-summary-questions-in-cat/
27 https://fundamakers.com/tips-tricks-to-solve-para-completion-question-for-cat/