Preparing for CAT used to be a three-month or four-month process of intense practice and reading. But now with the monumental rise of the private sector and increased demand of able managers at all levels, the exam has got more important than ever. The rise in popularity of this exam can be witnessed from the rising number of aspirants. This has widened the spectrum of preparation and it now begins with April and goes on for eight months. We will analyse and understand the eight month approach in order to plan accordingly in the upcoming months.
VARC Preparation Strategy for CAT | CAT Preparation from April
For CAT VARC the strategy remains simple. It is based on intense reading and practice. Both need to be continued from the beginning until the very end. Reading is the daily essential without which this preparation cannot be imagined. Apart from this, note-making, summary writing and vocabulary building are equally important. Last of all, practicing mock tests and quality questions are something that you simply cannot skip. For eight months straight, this practice goes on, just that it gets remains more reading centric in the beginning and gets practice centric towards the end.
Important chapters to cover in VARC for CAT –
1. Parajumbles
2. Paracompletion
3. Odd One Out
4. Parasummary
5. Critical Reasoning – (although this chapter does come directly in CAT but it is important for Reading comprehension)
6. Reading comprehension
All in all, VARC syllabus can be completed in a week but daily practise is the key to improve accuracy. Remember, syllabus completion is not the key to a good score in CAT. It is time management and familiarity with different types of questions which gets you a good score in CAT.
LRDI Preparation Strategy for CAT | 8 months strategy for CAT Preparation
Practice, practice and practice. That is the only rule to follow when it comes to Logical Reasoning and Data Interpretation. This region tests your thinking skills more than your knowledge, your understanding of the situation more than your speed and your time management skills more than your calculation ability. Of course the others are important but to ace this section it needs most importantly, a calm and confident mind. Trembling senses and loose sense of capability may land you in trouble in this section. It is only through classroom practice sessions, practice questions and mock tests that you can learn to absorb that stress and really improve yourself in this segment. What one can do is, that he or she may divide the question types and practice a certain question type only for a set amount of time, like practicing Circular Arrangement or Bar Graphs for two weeks. In that target time one must strive to attempt the maximum variety of that question type. This makes a student confident enough to tackle that type of question. Apart from this just like VARC, it does not have a phase-wise structure of preparation but for best results one must adhere to the teaching schedule or follow a particular pattern of moving either from his strong area to his weaker areas or vice versa.
QA or Maths Preparation Strategy for CAT | CAT Preparation Tips
Broadly, QA Section of CAT can be divided in 4 major sections. Namely Arithmetic , Geometry, Algebra and Number System. Arithmetic is the most important section as it is around 40 percent of the total section. Chapters like percentages, profit and loss, ratio and proportion, time, work, speed and distance, averages and mixtures are chapters which will constitute around 10 questions in CAT. So ,having a grip on these chapters is very important. Algebra will be around 6-7 questions and geometry 5-6 questions. Number system, PnC and Probability will again have around 2-3 questions.
QA section should be prepared with proper time line. Join a good coaching institute or take study material and tr finishing maths syllabus till July. August and September should be used to revise the chapters once more. October and November should strictly be given to tests and mock papers.
Batch completion time line at FundaMakers | CAT Preparation Strategy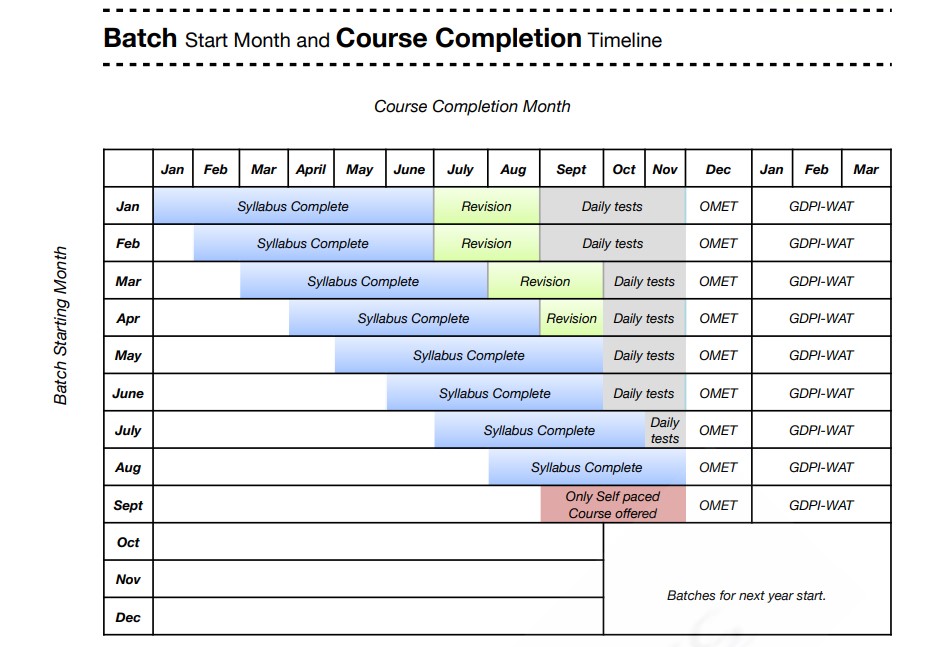 New Batches for CAT have started at FundaMakers in Online mode. Classroom program is available in Lucknow at three centers.
Read More : CAT Scholarship Test- Get Upto 100% Off on CAT Courseware fees