CAT is over and the season of group discussion and personal interview rounds in the top most B -School have started. Personal Interviews, as the name goes, are very personal and subjective to an individual. Hence, one size fits all does not work in the Interview preparation. You need to understand yourself in the best possible way. Self awareness is the key. In this blog, we will give you the 10 golden rules to crack personal interviews in the best B Schools.
A Brilliant Resume : #1 tip to crack the IIM Interviews.
A good resume is a key to crack any interview. Your resume should not contain more than a page. It should be crisp and very economical at words. Do not use very fancy words in your resume. Clearly mention your achievements and versatility. Remember, the variety of accomplishments determine your multi-tasking ability. Discuss with your mentors and prepare a good resume before going for an interview.
2. Know yourself : #2 tip to crack the IIM Interviews.
Knowing oneself is very important. Mostly, students think that the more you speak , the better are the chances of getting selected in the IIM Interviews. But, it is a highly unreasonable reasoning. A candidate is expected to know his weakness, strength, achievements, failures, hobbies, goals and triggers. 99% of the students get rejected only on the basis of two questions. 1. Why MBA? and 2. What is your goal in Life?. These questions may not sound very difficult, but the answers to these very easy sounding questions can take the happiness away from many a candidates' lives.
Self-based Questions:
❖ Tell me something about yourself.
❖ Tell me something about yourself that is not present in your …..resume/profile.
❖ Describe yourself in one word.
❖ Tell me something about your family. How do you believe the culture and education of …..your family played a
role in your upbringing ?
❖ Where do you belong to? Tell me few unique things about that ……city/town/village.
❖ What are your strengths and weaknesses? Mention three of each relating it to any ….of your past experiences or
instances.
3. Introduce Yourself : #3 tip to crack IIM Interviews.
A lot of students do not know how to talk about themselves. Sometimes, they do not have the right structure and other times they do not even have the idea about themselves! Introduce yourself is probably one of the most important opening questions in an interview. There are three steps to organise this answer.
A. Academic Achievements
B. Extra/Co-Curricular/ Work achievements
C. Goal in Life and how MBA aligns with it.
4. Hobbies: #4 tip to crack IIM Interviews.
Hobbies reveal the kind of person your are. Hence, hobbies and deep diving questions relating to your interests form a very important part of the interview. A candidate is expected to know his/her hobbies inside out.
5. Know your graduation subjects: #5 tip to crack IIM Interviews.
You cannot afford to skip academic excellence in an academic interview. A simple and MUST TO DO tip; revisit your subjects from graduation.
Academics Based Questions:
❖ Which was your favorite subject in school/college? Why?
❖ Tell me something about your school/college.
❖ What are a few take-aways you got from your previous education?
❖ Have you participated in any non-academic co-curricular activities? How important do you think these
activities are in general?
❖ Why did you choose this (your branch of engineering or any other selection of course/degree/stream)?
❖ Why are your grades low or have decreased/not improved significantly?
6. Why MBA?: #6 tip to crack IIM Interviews.
Know about your long term and short term goal and how MBA education relates and aligns to your goal. Also, be ready to face the following questions-
MBA related questions:
❖ Why do you want to pursue an MBA?
❖ Why do you think you are the right candidate to be a part of an IIT Roorkee?
❖ Tell me a few instances from your experience where you have shown your management skills.
❖ Which specialization do you want to opt for? And why?
❖ Why do you want to pursue an MBA instead of pursuing masters in your own domain?
❖ What are your short term (3-5 years) and long term (8-10 years) goals?
7. Work experience related questions: #7 tip to crack IIM Interviews.
If you are a working professional, then expect the following questions in your interview-
❖ Tell me something about your previous company/ previous role.
❖ What are the key learnings you have got from your previous experience?
❖ Mention any instances where you have made your team or company proud of yourself. Mention few where you
haven't worked at the level expected from you.
8. Current affairs related questions. #8 tip to crack IIM Interviews.
As an MBA aspirant, you cannot afford to be unaware about the political, business scenario around you. Make sure, that you revise all events of national and international importance before you go for an interview.
9. Body Language: #9 tip to crack IIM Interviews.
Body language during interviews play a very important role. The expression "actions speak louder than words" holds very true, especially during MBA interviews. The way you present yourself leaves a significant impact on your interviewer.
❖ Maintain good eye contact : Looking directly at your interviewer is important during any interview, but especially so for a video interview. Make it a point to look directly into the camera, rather than your computer screen.
❖ Sit up straight : Having good posture during your interview shows that you are alert, interested, and engaged. Slouching in your seat can look unprofessional and make it seem like you're a little too casual.
❖ Try to keep gesturing to a minimum. : Many people gesture as they speak to animate their stories or to get their point across. Problem is, most people don't realize how often they use their hands until they see themselves on video. During your video interview, you can gesture as you speak but to a certain extent.
❖ Don't cross your arms : To keep from gesturing wildly, you might be tempted to fold your arms in front of you. Unfortunately, you might come across as closed off by doing so.
❖ Nod when necessary : You don't want to interrupt your interviewer with a boisterous, "That sounds amazing!" when they're telling you about the institution. That's where the art of the nod comes in.
❖ Look Presentable : The goal is to treat the online interview as if it were a traditional offline interview, which means showing up in correct formal apparel, grooming yourself, and looking presentable to stand out.
❖ Choose the Best Location/Camera Angle : De-clutter your space and create a clutter-free setting conducive to an interview. Maintaining a professional setup also requires assuring a great camera angle by keeping it at eye level and having appropriate lighting (ideally not in the backside).
❖ Test the Network/Audio Connection : To avoid last-minute stress, signing in ahead of time and checking your device's network and audio connection should be at the top of your priority list. It's a good idea to have a backup internet connection on hand throughout the event.
10. Know about the college where you are applying : #10 tip to crack IIM Interviews.
Know about the college you are applying so that you may answer the questions related to the college, syllabus, clubs etc. A few minutes of investment in knowing the college will give huge returns in the interview. Trust me !
By now, You will have learnt a lot about how to prepare yourself for the IIM Interviews. The major part of your interview preparation is still missing. i.e. Mock Interviews. It is a extremely important to prepare to take mock interviews. Appear in the mock interviews as much as you can. Get subjected to a variety of mock interviews.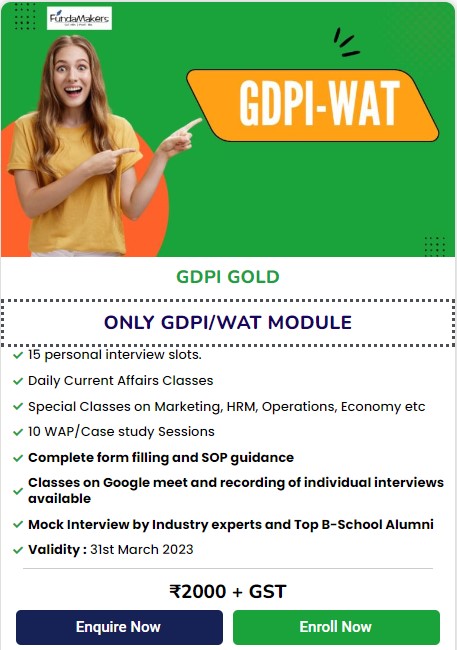 FundaMakers can help you in this. We give 15 Mock interviews to every student and every interview is recorded so that you may know where you made the mistake. Click here to join the program now ! Call 9598333344 NOW !