DOWNLOAD CAT PREVIOUS PAPERS WITH SOLUTION
CAT
2022
2021
2020
2019
2018
2017
PREVIOUS YEAR PAPERS
Welcome to FundaMakers Most Comprehensive collection of CAT , XAT, IIFT, SNAP and other management entrance tests' previous year papers. Here, CAT aspirants also get database of topic wise CAT past year questions. Solving CAT previous year questions is a very important part of online CAT preparation. This page is a detailed compilation of CAT exam questions. Students who are into CAT 2023 and CAT 2024 Exam Preparation must solve all questions on this page to have a thorough grip on concepts of CAT exam topics and complete command on CAT 2023 & CAT 2024 Syllabus.
Common Admission Test popularly known by its abbreviated name of CAT is an entrance examination held for admissions primarily into IIMs and also provides admission to other top notch B-Schools in India like FMS Delhi, MDI Gurgaon, SPJIMR Mumbai, IMI New Delhi, IMT Ghaziabad and hundreds of other top MBA colleges in India. IIMs will be only accepting the scores of CAT 2023 for admissions in 2024 as per their convention.
CAT is the most important entrance test not only because it opens the gateway for 2 years full time post graduate management program (MBA/PGDM) but also CAT is the key for one year MBA programmes in IIMs and other prominent management institutes. It is also needed and acts as a score card when trying for Fellowship Programs in Management (FPM) in IIMs. Since 2012, Indian Institutes of Technology (IITs), Indian Institute of Science (IISc) have also started accepting CAT scores for their Management programs.
CAT 2023 EXAM ELIGIBILITY
CAT can be given by people of any age as there is not a bar on age. Admission is offered only to candidates who have completed their graduation with at least 50% of marks. A candidate who is in his/her final year of graduation may sit in CAT for the earliest shot at admission into IIMs and other B- Schools.
CAT 2023 EXAM REGISTRATION
Registration is done completely online, including fees payment. A single registration makes you eligible for further admission procedure of all IIMs. CAT exam is usually held in one day in three shifts of 2 hour each. During registration you apply for more than 50 programs across 20 IIMs. The registration window is usually 45+ days long which begins from August beginning to mid of September. The fees for registration to CAT 2022 Exam is Rs. 2300/- for Open Category Candidates while it is Rs. 1150/- for SC/ST/ and other category candidates.
CAT 2023 QUESTION PAPER FORMAT
| | |
| --- | --- |
| Number of Questions in CAT 2023 | 66 questions divided in 3 sections (same as CAT 2022 Exam Pattern) |
| Time duration of CAT 2022 | 2 hours (same as CAT 2022 Exam Pattern) |
| Sectional Time limit | 40 minutes per section (same as CAT 2022 Exam Pattern) |
| Name of sections and number of questions | VARC-24 Questions; DILR-20 questions; Quant-22 questions |
| Expected CAT 2023 Difficulty level | Moderate to Difficult |
| Order of Sections | Pre-fixed, no change allowed |
| Paper Source | Every year one of the six old IIMs takes the charge to conduct the CAT 2021 Exam was conducted by IIM Ahmedabad which conducted CAT in 2015 when the mode of examination was shifted from offline to Computer Based Test for the first time. Similarly, CAT 2022 was conducted by IIM Bangalore. CAT 2023 official notification will be released in the month of July 2023. |
| Mode of examination | CBT (Computer Based Test) |
Verbal Ability and Reading Comprehension (VARC)
CAT exam syllabus has limitised its testing canvas in Verbal Ability and has completely eliminated questions based on vocabulary explicitly like fill in the blanks, sentence correction, synonyms, antonyms,etc. It now tests Reading Comprehension (RC Skills) and in Verbal Ability restricts its testing pointers to Para Jumbles, Odd one out and Summary Questions. The CAT exam Syllabus has a rigorous list of topics from where questions are asked is as follows-
| | |
| --- | --- |
| Inferences, Statements, Arguments | 10-12 Questions |
| Main idea in the RC Passage | 2-3 Questions |
| Author's assumption | 1-2 Questions |
| Meaning of the phrase | 3-4 Questions |
| Para Summary | 2-3 Questions |
| Jumbled paragraphs | 2-3 Questions |
| Paragraph Completion | 2-3 Questions |
| Sequence of sentences | 1-2 Questions |
| Critical Reasoning based questions in Reading Comprehension | 2-3 Questions |
Logical Reasoning and Data Interpretation (LRDI)
The CAT Exam Syllabus of Data Interpretation skills do not have a difference on the basis of form of data but the data differs from other examinations in its ability to discomfort a student who attempts to comprehend the data given in the graph or table. It requires analysis, focus and observation to get through the craftly placed elements in a DI caselet. Logical Reasoning in CAT differs from other examinations on the basis that it does not ask individual logical reasoning question (like blood relations, series, coding-decoding, etc) and the questions always appear in caselets for example linear arrangement caselet, tabular caselet, circular arrangement, grouping and llikewise other forms of caselets, not limiting to the aforementioned types.
The CAT Exam Syllabus has a rigorous list of topics from where caselets are formed is as follows:
Bar charts
Simple, Stacked, Composite Bar charts
Pie charts
Data Analysis
Data comparison from Tables
Team formation
Seating Arrangement
Linear and matrix arrangement
Set Theory
Venn Diagrams
Quantitative Aptitude (QA)
The syllabus of Quantitative Aptitude can be primarily said to be based on High School level Mathematics. But a few chapters like Permutations and Combinations (and according to some boards the chapters on Progressions, Logarithms, etc.) might be additional. However, whatever chapters are included this section can never be assumed as a pure mathematical section because of the touch of logic given to the questions. Many questions in the past CAT year papers can be seen testing awareness and wiry nature of a candidate more than their command over formulas and theorems.
A rigorous list of topics from where questions are asked is as follows-
| | |
| --- | --- |
| Averages; Ratio & Proportion | 1-2 Questions |
| Speed, Time and Distance; Time and Work | 1-2 Questions |
| Percentages, Profit and Loss | 1-2 Questions |
| Number System | 2-3 Questions |
| Algebra | 2-3 Questions |
| Geometry/Mensuration | 4-5 Questions |
| Linear Equations; Quadratic Equations Complex Numbers | 1-2 Questions |
| Logarithm; Progressions | 1-2 Questions |
| Binomial Theorem | 1-2 Questions |
| Surds and Indices; Inequalities | 1-2 Questions |
| Permutation and Combination | 1-2 Questions |
| Probability Functions | 1-2 Questions |
| Set Theory; Mixtures and Alligations | 1-2 Questions |
| Co-ordinate Geometry | 1-2 Questions |
| Trigonometry | 1-2 Questions |
BEST COACHING FOR CAT 2023
CAT Exam in itself is not difficult, but, lack of proper resources, guidance, etc makes it difficult for many aspirants. We at FundaMakers CAT Coaching Classes have developed an ingenious method for the aspirants to grasp the success strategy for the exam. Here, you will find plenty of Free CAT Relevant content from where you can start your CAT Preparation Online. Incase you have any difficulty while formulizing a suitable strategy for yourself, reach out to us, we will be happy to help.
NOTE: FundaMakers CAT Preparation Youtube Channel have 400+ Free CAT Practice Sessions with 2000+ Highly relevant CAT Questions with detailed explanation. Attend those sessions to clear your concepts and see the improvement. 
DOWNLOAD CAT PREVIOUS YEAR PAPERS
CAT Previous year papers are a great source of CAT Exam preparation. We have brought to you the list of all CAT past year papers. It is very important to go through CAT 2023 Exam Syllabus before you solve CAT previous year papers. It will help you prepare yourself mentally for the kind of questions you will face in the paper. The best CAT online coaching FundaMakers will help you with great test series for CAT to maximise your score in CAT 2023.
CHOOSE A CAT Preparation Online PLAN THAT BEST FITS YOU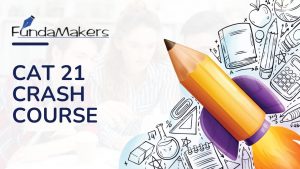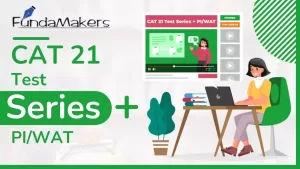 CAT 21 TEST SERIES + PI/WAT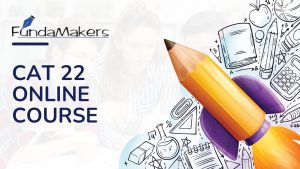 Check Out our blog posts for to the point guidance

CAT 2023
Master CAT Preparation with FundaMakers' CAT Topic Wise Questions Introduction: CAT Topic Wise Questions For CAT aspirants aiming to excel in the exam, targeted practice
Read More »

CAT 2023
Enhance your CAT preparation with focused Topic Wise Questions at CAT Question Bank from FundaMakers.
Read More »

IPMAT Prep
FundaMakers' IPMAT Coaching understands the importance of flexibility in learning. Online classes are conducted five days a week, with each session lasting two hours. Students can choose between two convenient time slots: 5-7 pm or 9.30-11.00 pm. For those who prefer offline classes, FundaMakers offers coaching at multiple locations in Lucknow, including Aliganj, Gomti Nagar, and Alambagh. Weekend batches are also available to accommodate students with varied schedules.
Read More »