CRACK CAT 2023 | CAT Crash Course 2023
Best CAT Coaching
in LucknoW
FundaMakers – Your One Stop solution for CAT Classroom Preparation. Best Content for CAT Preparation with profile development sessions and guidance. Get access to Highly interactive classes for your CAT Preparation Institute in Lucknow.
Book a Demo Class With FundaMakers
HIGHLY INTERACTIVE CAT CLASSSROOM PROGRAM
Best CAT INSTITUTE in Lucknow
It is only when great minds gather under a roof that real knowledge can be talked about. With open hearts and great expectations, we welcome you to our CAT Preparation Coaching In Lucknow. And guess what, our students have walked through the doors of their dream B-School like Nawabs. Here we unfold our magic carpet, and its magic elements, for you to take you with us on a flight of success. There are several reasons which make your CAT preparation successful, and CAT coaching institute plays a major role in making your dream become reality. FundaMakers is considered as one of the Best CAT Coaching Institute in Lucknow that has a team of highly qualified Teachers and Mentors who help you remain focused throughout your CAT preparation journey.
2nd Floor, 78A Sector P, near Sector Q Chauraha, Aliganj, Lucknow, Uttar Pradesh 226024
KBC 13 Vishwakarma Tower , Behind Fish Gallery Near Phoenix Mall, Barabirwa, Alambagh, Lucknow, Uttar Pradesh 226012
5/2 Viram Khand, Gomti Nagar Lucknow, Uttar Pradesh, India
CAT INSTITUTE IN LUCKNOW THAT IS PERFECT FOR YOU !
Expert Faculty- Simply CAT Aficionados!
At FundaMakers- The Best CAT Institute in Lucknow, our Faculty members are those who have had great scores in CAT and have consistently exhibited their potential ever since they joined us. We put this fact ahead of their knack for teaching, their vibrancy, their peppy nature and their mastery of concepts, because we believe that until one has gone the way, one cannot show the way. Our students can lay their full trust in them and remain assured that it won't be shaken. Book your CAT Classroom Program Demo Class now!
Five times a week classes- Your presence is SUBLIME!
We maintain a healthy schedule of CAT Coaching classes in Lucknow where we don't break your back with classes or leave you wandering for too long. We deal with every concept at a micro level, inspecting minutest details and analysing the pitfalls. We don't overkill one chapter too much or skip too fast contents that are important. We deliver with justice only what is JUST! We are the FundaMakers CAT Coaching Institute in Lucknow, and our Fundas are ground-breaking. We begin from basics, ascend gradually and in no time you would find yourself dealing with CAT level questions with ease. We don't take shortcuts or throw philosophy at you. We work and make you work. As simple as that!
Remedial classes- Because a chain is only as strong as its weakest link
If you don't get the concepts straightaway or fail to comprehend bits and parts of a topic, we are always at your back. Not everyone comes from the same background and disparity in school education causes disparities in understanding. But simply because you did not have a great time does not mean you cannot have now. We work our socks off but make sure that nobody is left behind in the journey to CAT. We won't go without you. 
YOU ARE PHENOMENAL!
Pre-recorded video lectures- What we call A Stockpile of Wisdom
If you think that CAT Classroom Course classes are not enough and you need guidance more often than others, not because you conceive lesser than others but simply because you are more conscious about your attempt, we have a library of video lectures for you to view, learn, revise or polish your concepts. Watch and listen in silence and solitude to absorb all that is said and taught. This is an additional feature of FundaMakers- Best CAT Coaching in Lucknow!
BEST CAT CLASSROOM Study Material
To make you understand the key concepts and for practice CAT Level Questions, we at FundaMakers CAT Coaching in Lucknow provides 10 Book-set covering all topics from Basics to Advance. In addition to these, you will be having numerous Handouts consisting of highly relevant CAT Level Questions for practice, CAT Mock Test Series with video solutions.
BEST Doubt Resolution
SYSTEM
We at FundaMakers- Best CAT Coaching Classes in Lucknow believe that doubts serves as an essence during your CAT Preparation. Hence, inorder to make sure that your each and every doubt is resolved, we offer various Doubt Resolution Techniques. You can instantly resolve them during your CAT Classes, or via our Telegram or Facebook Group. 
Practice Tests- NOTHING beats TRAINING
To score a 99.5+%ile in CAT Exam, Mock Test Series and Practice Tests plays a pivotal role. Here at FundaMakers CAT Coaching in Lucknow, you will be having 25 Full Length CAT Mocks along with 30+ Sectional Tests. To increase your command over different topics, you will be having 225+ Topic-wise Tests. Our one of a kind Student Portal allows you to check your Mock performance in terms of graphs and scores against fellow aspirants.
GD-PI-WAT Preparation- THE FINAL SCRAMBLE !
Once you are done with our CAT Classroom Program, and after getting an awesome %ile in your CAT Exam, we help you present yourself in a best possible way during your B-School Call. From perplexing topics for your writing practice, gruelling sessions of GD to those unnerving mock interviews which nerve you up to move the last big boulders off your way to your dream B-School.
B- School Counseling- You deserve more!
Right! We don't wish to see you going on ways which do not lead to beautiful destinations. We help you make the best choice for you deserve nothing short of the BEST! Book a demo class here. Fill the form and our counsellors will get back to you !
CHOOSE A PLAN THAT BEST FITS YOU
Fundamakers- CAT Coaching in Lucknow
FAQ's | CAT Classroom Preparation IN LUCKNOW
FundaMakers CAT Coaching has been an integral part of my CAT preparation. The valuable inputs from the esteemed Faculty Team, proved to be the corner stone of my MBA entrance preparation. Thank You All!!
CAT- 99.69%ile
I would like to thank the entire team of FundaMakers CAT Coaching in Lucknow for helping me throughout this journey. I am especially thankful to the whole faculty team for being the best mentors who guided me and motivated me to get a great percentile in CAT. I am blessed to have their guidance that helped me to get through. Thanks !!
The faculties of FundaMakers CAT Coaching in Lucknow have given immense guidance and support throughout my journey. The CAT mock test series have helped me maintain consistency and work on my weak area. They helped me sail through VARC and helped me work on QA and DI which helped my problem solving abilities.
CAT-19 96.33%ile
XAT- 95%ile
I have been with Fundamakers CAT Coaching for almost an year. The entire faculty members are excellent in their subjects. The teaching method is very good and the CAT study material provided is also very helpful. Faculties have always been there with me and inspired me.
My journey in FundaMakers started in Aug. Since, then I've come far away in improving my personality. Faculties give great exposure and are gems of trainers in the current scenario. Finally, I owe my success to FundaMakers- The Best CAT Coaching in Lucknow.
FundaMakers have provided sustainable environment to work on my weakness. I have got chance to grow as an individual than to just as a student in the institution. The CAT Mock Test Series and study material were great and upto the mark. I owe my success to Fundamakers CAT Coaching in Lucknow.
This is my first attempt at CAT and I couldn't have asked for a better CAT coaching institute than FundaMakers. The quality of guidance and relevant study material provided here is more than sufficient to get you into the top B-schools. The mocks are aptly designed with the same difficulty level as the actual exam. Frequent mock analysis and doubt sessions help a great deal in overall improvement. I owe my success to consistent effort and expert team of FundaMakers.
Having the right preparation partner goes a long way in the decisive battle of CAT. I was fortunate to have FundaMakers CAT Coaching alongside me. One can expect a holistic preparation for competitive exams like CAT at FundaMakers. The faculty & the teaching methods were of immense help & support. All in all, I believe that I made a right choice.
During my journey from scoring 59 percentile to a top scorer in CAT, FundaMakers has been there with me all the time. I heartily thank them for this support. I would say that the mocks that FundaMakers provided were the best in the industry. Moreover, the admin staff members are very active in helping students; from arranging personal doubt sessions to conducting mocks and Personal Interview sessions, they do it the best. The faculty here brings the best out of your potential. I feel the environment you get here is one of a kind and my words will never be enough to show my gratitude towards FundaMakers CAT Coaching Classes.
fundamakers BEST CAT coaching in lucknow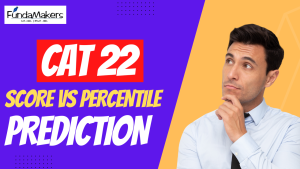 CAT 2023
CAT 2023 Percentile Prediction: A Glimpse from CAT 2022 Scores While the CAT 2023 examination is yet to take place, we can draw some insights
Read More »
Get The Best Classroom Program for CAT in Lucknow !
Since 5 years of its inception, FundaMakers has proved to be the BEST CAT Coaching in Lucknow by creating mind-blowing results. Enquire now to get started.
Book a Demo Class With FundaMakers