BEST BBA/IPM Entrance exam preparation COACHING
IN LUCKNOW
FundaMakers offers you a top-notch one-stop solution for various UG Entrance Exam Preparation like B.Com, BBA, Hotel Management, Psychology, Mass Media Communication and Journalism. You will be getting highly relevant UG Entrance Exam Preparation Material, Assignments, Mock Test Series, Mock Interview Practice Sessions to crack the UG Exam in a single attempt.
Check out FREE Content for your UG Exam Preparation Now!!
TAKE yOUR 1st STEP TOWARDS SUCCESS
Book a Demo Class With FundaMakers
Fundamakers Best UG Entrance Exam Prep coaching
FundaMakers Magic Lamp Program is a cumulative preparation of 60 exams in India. It is a one of its kind program which prepares you for all aptitude-based exams in the country. An aptitude test is a test that has sections of Maths, English, Reasoning, and GK.
Reason to go for MAGIC LAMP PROGRAM
Fundamakers BEST COACHING IN LUCKNOW
How we help you in cracking UG ENTRANCE EXAMS
All our Online and Offline batches are handled by the same set of teachers who are highly qualified for Exam training.
Not more than 25 students per batch. Individual attention is our top most priority. Get started with the Best UG Entrance Exam Prep Coaching in Lucknow.
B- School Guidance, form filling or Individual doubt solving, you say it and we have it !
Our study material contains a set of 6 books handcrafted to contain all Undergraduate exam past year paper questions along with concept building questions for your UG Entrance Exam Preparation.
As our name suggests, We work on hard core fundamentals. No short cuts, no gimmicks, no Vedic maths. The Fundamentals are the only way to crack UG Entrance Exam. You will be able to apply new and quicker methods while solving UG Entrance Exam questions.
The gold standard online support
You complete a topic in classroom and the next day you have a video lecture for topic revision.
Back up of all recorded lectures you attend online.
A bank of more than 10,000 questions with video solutions.
10+ Mock tests, 225+ Topic tests, Nothing beats this !
UG ENTRANCE EXAM PREPARATION 2022
CRASH COURSE STRUCTURE
(6 MONTHS PREP)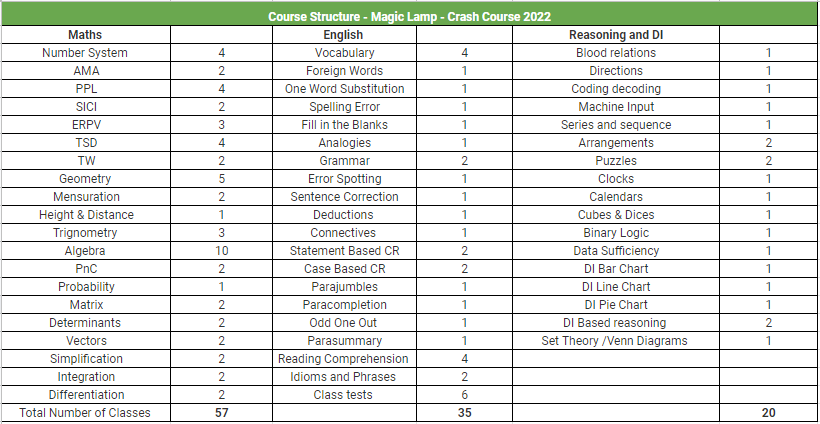 For more details, fill up the form or call at 9598333344
FEATURES YOU CAN't resist
FUNDAMAKERS' MAGIC LAMP FEATURES
FundaMakers' MAGIC LAMP PROGRAM is one of a kind in India. With the aim of providing quality education available to every corner of Lucknow, we have launched a program through which you can give upto 60 Undergraduate Entrance Exams related to different fields like B. Com, BBA, Hotel Management, Psychology etc.
The following Undergraduate Entrance Exams will be covered in FundaMakers' Magic Lamp Program:
Currently there are 5 IIMs that offers admission to a 5 year integrated program (BBA+MBA). If a candidate wants to forge a career in management field and want to start early with the most reputable brand, then IPM Exam Prep will be the best suitable option. FundaMakers offers you The Best IPM Exam Preparation Coaching in Lucknow.
List of colleges associated with FundaMakers Magic Lamp Program for IPM:
Check the eligibility and exam details of each of the above mentioned college by clicking on the links.
2. Bachelor of Business Administration (BBA)
Bachelor of Communication (B.Com) is the one of the most sought after exam after 12th class for Undergraduate degree. Here are the details about Top Colleges for B.Com in India that takes entrance exam for admission to this programs. FundaMakers' Magic Lamp Program offers Best B.Com Entrance Exam Preparation in Lucknow through which you will be eligible to take the below mentioned entrance exams. The top B.Com colleges in India are as follows:
a) IP University Entrance Exam (IPU-CET)
b) Jamia Milia Islamia B.Com Entrance Exam (JMI Entrance)
c) NPAT Entrance Test (Narsee Monjee for B.Com)
d) Symbiosis Entrance Test (SET Exam)
e) St. Xavier's Entrance Test (for St. Xavier's University)
f) Christ University B.Com Entrance Test (CUET)
g) Loyla University
5- Mass Communication & Journalism
Candidates who want to pursue career in Psychology have following options. Here is the list of Top Colleges in India for Psychology Program. FundaMakers' Magic Lamp Program offers you the Best Psychology Entrance Exam Preparation in Lucknow and includes preparation of these Psychology Entrance Exams.
a) Christ University for Psychology (CUET)
Best UNDERGRADUATE ENTRANCE EXAM PREP INSTITUTE
FAQ's- MAGIC LAMP Program
Our Actions speaks for itself...
Surya sir is extremely talented and professional. The mock interviews for IPMAT IIM Indore, IIM Rohtak etc that he conducted were amazing and informative. It helped us to prepare well for the actual Interview. Overall I would highly recommend FundaMakers IPM Coaching in Lucknow to anyone in need of help.
Best IPM coaching provided for Interview preparation. I attended the sessions for IIM Rohtak (IPM) Personal Interview and finally got in in my first attempt. Highly personalized where one-on-one interviews were taken and also getting to watch our peer's interviews made it a 360 degree experience. One of the best IPM Preparation coaching institutes in our country
I had an amazing experience with FundaMakers IPM Preparation Coaching in Lucknow. It wouldn't have been possible to crack IPM test without Surya sir's help and guidance, for which I'm extremely grateful. Many thanks to the organization for being there to support all of us in all stages (especially interview). I highly recommend their service to any sincere IIM aspirant like me. Don't hesitate to become a premium student member and make the most out of your preparation!!
Fundamakers IPM Preparation tried their best to conduct Very helpful and interactive sessions with Surya sir and other teachers as well during my preparation for PI round of IIM-R and other top institutes as well. A free of cost service only to help the students, is a very rare thing an recognised institution does. Also the classes for Online IPMAT Preparation were also very helpful for papers like CAT, NMIMS etc. Great efforts by the team!
A coaching which is very sincere & dedicated towards its students when it comes to any preparation . Unlike other coaching the teachers don't focus on completing the course but actually helping the student with their regarding questions & especially profile building. I Highly recommend FundaMakers Online IPM Coaching
At Fundamakers IPM Coaching in lucknow you are trained by the professionals to be to be in the competition and be at the top. The Difference is the focus, attention, care, and the immense support you get by the teachers ,staff members, and the efforts that is put in is applausable . The students get complete attention and the support of a Family. "It is not just a coaching class where you come study and leave , it is a family that you become a part of"
I have learnt a lot since I've joined FundaMakers IPM coaching institute. The teachers here have it all, amazing fundas, experience, easy to understand teaching methods. The best thing they provide, that I think other coachings lack, is it's friendly environment which makes the classes very interactive and fun . Also, they have different teachers for subjects that can not only help students with advance level learning but also with basics, as a lot of students do need basic understanding of various topics, especially in quants.
Fundamakers, the best coaching in Lucknow for IPM Preparation under the ace mentorship of Surya sir. Fundamakers Best IPM Coaching believe in individual growth of students not like other brand coachings just money oriented.
best UG Entrance Exam Prep coaching in lucknow
Get Your First Best UNDERGRADUATE ENTRANCE EXAM PREParation
In your dream of getting into the Top College for IPM, BBA, Hotel Management, Mass Media Communication & Journalism, B. Com, Psychology, let FundaMakers Best Undergraduate Entrance Exam Preparation Institute be your guide and help you achieve it with great success. Fill in the form to request a call back from our Student Advisor and take your first step towards your Dream College.