Symbiosis Centre for Management
The Symbiosis Institute which is a Deemed University conducts an entrance test named SET Exam or Symbiosis Entrance Test for admission into bachelors' programs into their various branches. Symbiosis Centre for Management, Pune is considered one of the best B-School for BBA programs in India.
It is important to note that each Symbiosis Institute has its own independent selection process. The candidate first needs to take the Symbiosis Entrance Test based on his/her course preference.
There are four types of Symbiosis Entrance Tests (SET):
SET-General – For BBA/B.Com Programs
Symbiosis Law Admission Test (SLAT)
Symbiosis Entrance Exam for Design (SEED)
Symbiosis Institute of Technology Engineering Entrance Exam (SITEEE)

We will be looking at the SET General exam which offers admission for BBA, B.Com and B.Sc. programs.
Symbiosis Centre for Management- Courses Offered

Must Read: Symbiosis SET Exam Details for BA in Mass Communication Program
SET 2022 Important Dates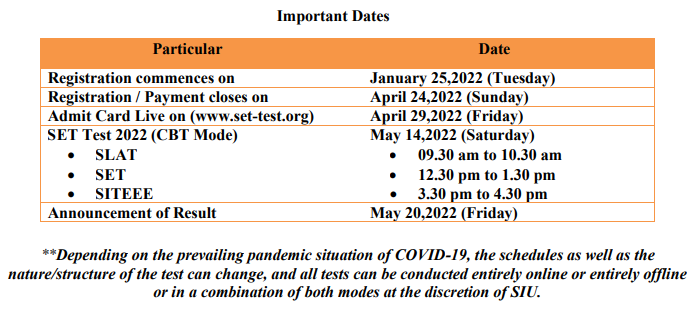 Number of Seats
BBA – 780 Seats, BSC Economics – 180 Seats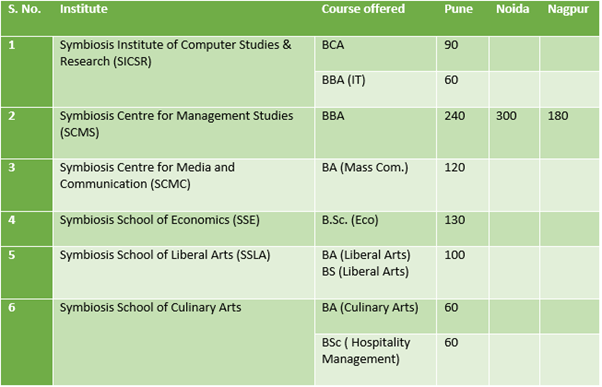 Symbiosis SET 2022 Exam Eligibility Criteria
For Undergraduate programs through Symbiosis, the following criteria need to be fulfilled.
For Open Category: Minimum 50% marks is required in 12th Standard or its equivalent in any discipline.
For SC/ST category: Minimum 45% marks is required in 12th Standard or its equivalent in any discipline
Candidates who are awaiting results for their H.S.C. finals are eligible to apply for the undergraduate programs offered by Symbiosis, subject to submission of passing certificate by the notified date.
Candidates who have passed 10+2 through Open University System are not eligible for SET Exam.
There is no upper age limit for Symbiosis Entrance Test (SET).

Symbiosis SET 2022 Exam Dates

Symbiosis SET Exam Details
General Features of Symbiosis SET Exam:
• Mode of SET 2022: Online mode only
• Duration of Exam: 12.30 pm to 1.30 pm ( One Hour)
• Question Type: MCQs with 4 option choices.
• Test Mode: Either Home Based Proctored Test or at Offline centers (Tentative- depending upon COVID-19 scenarios)
• Marking Scheme: +1 for every correct answer & no negative marking for incorrect answer.
SET 2022 Exam Pattern

Symbiosis SET Exam Syllabus
General Awareness
• National Insignia & Establishments,
• Environment,
• Science & Technology,
• Aerospace & Defence,
• Awards, Titles and Honours,
• Famous Personalities,
• Important Books & Authors,
• Government & Politics,
• Days & Dates,
• Arts & Culture,
• International News/Forums,
• Business,
• Economy & Trade
Analytical and Logical Reasoning
• Coding & Decoding,
• Symbol Based Logic,
• Family Tree & Directions,
• Arrangements: Linear, Circular,
• Matrix Arrangements,
• Groups & Conditionalities,
• Logical Series,
• Selection Criteria,
• Sequential O/P Tracing,
• Analogies,
• Odd one out,
• Logical Puzzles,
• Calendar based questions/puzzles
Quantitative Ability
• Numbers,
• BODMAS,
• HCF & LCM,
• Averages & Percentages,
• Roots,
• Indices & Surds,
• Simple & Compound Interest,
• Profit & Loss,
• Algebraic Formulae,
• Linear & Quadratic Equations,
• Ratio & Proportion,
• Partnership,
• Mixtures & Alligations,
• Time, Speed & Distance,
• Work Related Problems,
• Pipes & Cisterns,
• Geometry,
• Permutations & Combinations,
• Probability
General English
• Etymology & Roots,
• Idioms & Phrases,
• Analogies,
• Antonyms-Synonyms,
• Foreign Words
• Noun & Pronoun Errors,
• Subject-Verb Agreement,
• Prepositions and Conjunctions,
• Tenses,
• Modifiers & Parallelism,
• Reading Comprehension,
• Inference based passages Syllogisms,
• Logical Consistency,
• Deductive Reasoning.
Symbiosis Colleges Selection Criteria
Step- 1 Symbiosis Entrance Test
The candidate who wishes to take admission for Undergraduate Program in Symbiosis Colleges is required to take the Symbiosis Entrance Test. Based on the scores in the SET exam, the candidates will be shortlisted for the next process.
Step- 2: PI- WAT
The shortlisted candidates will be called for the next process which is PI-WAT or Personal Interview and Written Ability Test.
The final merit will be declared based on the cumulative scores in SET Exam and PI-WAT. Both Step-1 & Step- 2 have equal weightage. Thus, aspirants are required to take both processes seriously.
Symbiosis SET Reservation: Important Things to Know
• At the time of the PI-WAT Process, the Candidates applying under reservation are required to submit the documents issued by the competent authority.
• Candidates applying under Armed Forces Dependents category will be considered as OPEN or General Category.
• Candidates applying under the PwD category are required to get disability authentication from the Symbiosis Centre of Health Care.
• Candidates whose reservation status falls under more than one category cannot choose more than one category at the time of registration of the SET Exam.
• Candidature will be canceled in case of incorrect data.
• Candidates who are living in Nagpur for more than 5 years and have completed 10+2 levels from Maharashtra Board will have 25% seats reserved. These candidates are required to submit a domicile certificate and class 12th mark sheet or class 10th mark sheet in case he/she has appeared for the class 12 examination and is awaiting the result.

Symbiosis SET – Reservation Policy
Symbiosis University offers the provision of reservations for candidates belonging to certain categories. The reservation criteria are set in accordance with the UGC guideline 2006. Reservation details are given below:

Fill Application form of SET 2022 here : https://www.set-test.org/dates.html
Call 9670606777 in case of any confusion !