Overview : CHRIST UNIVERSITY
Christ University is deemed-to-be-university located in Bangalore, Karnataka, and is considered one of the best Colleges in India for its Undergraduate programs. The undergraduate programme in Bachelor of Business Administration (BBA) is offered by the School of Business and Management. For admission to various Undergraduate Courses including BBA, Christ University annually conducts an entrance exam known as CUET [Christ University Entrance Test].
The various undergraduate courses that are offered by the Christ University through CUET Exam are:
• BBA
• BBA Finance & Accountancy
• BBA Finance & International Business
• BBA (H) & BBA Business Analytics – Lavasa, Pune Campus.
• B.Com (H)
• B.Com (Finance & Accountancy)
• B.Com (International Finance)
• B.Com (Strategic Finance Honours)
• B.Com Professional & (BA) Honours in Economics.
Let's look at the CUET BBA Exam Eligibility Criteria, Exam Pattern, and important dates of CUET Exam 2022, CUET Exam Syllabus, and Admission Process for BBA entrance Test
Christ University BBA 2022 Exam Pattern

Exam Pattern for Various Courses offered by Christ University is given below:
BBA | BBA (H) | BBA FIB | BBA (BA) | BBA FIN TECH | BBA T&T

BCOM (H) | BCOM (SF) | BBA F&A | BCOM P | BCOM IF | BCOM FA | BHM

CUET 2022 Exam Important Dates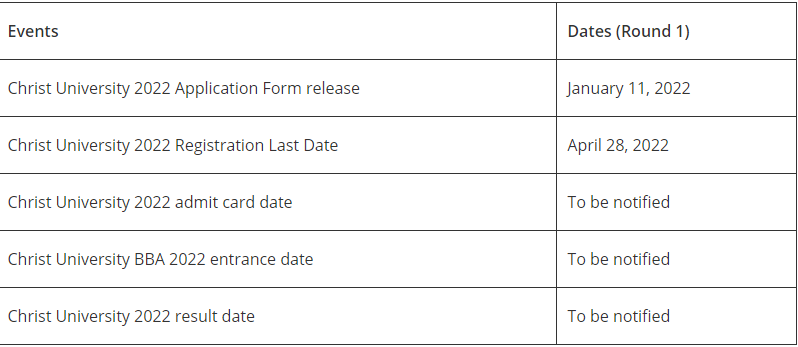 Christ University BBA Eligibility Criteria 2022
Candidates are requested to check the eligibility criteria for Christ University Entrance Test CUET 2022 before filling up the application form for Christ University BBA 2022. CUET BBA 2022 eligibility criteria include the academic requirements, category, age, and nationality that are required for the candidates as they register for the exam.
Note: The candidates are only eligible for the CUET 2022 exam only if they satisfy the eligibility criteria that are set by the exam conducting body. The CUET 2022 Exam Eligibility Criteria for admission is explained below:
Academics: The candidate must have passed the 12th standard or equivalent exam from a recognized university or board with a minimum of 55% marks.
Candidates waiting for their 12th class result or equivalent exam result are eligible to apply for the Christ University CUET exam.
Age Limit: The candidate's age should not exceed 20 years at the time of application.
The above-mentioned points are the general eligibility criteria for candidates having Indian Nationality for CUET Exam. Let's look at the eligibility criteria for different national categories.
Christ University CUET Exam Eligibility Criteria for Foreign Category
If the Candidates' Parents are living outside India (except Nepal) and are on Work Permit or Resident Permit, then the candidate can apply for undergraduate program i.e., BBA course offered by Christ University through CUET Exam under Foreign Category.
If the candidate is an Indian Citizen who is financed by any Foreign Institution or agency even if their parents are Residents of India, he/she is eligible for the CUET Exam.
If the candidate is an Indian Citizen but has pursued studies for the qualifying examination in any foreign / Indian syllabus outside India, he/she can apply for the CUET exam.

Christ University CUET Exam Eligibility Criteria for International Students
This category consists of Foreign Citizens, PIO cardholders, and OCI.
International students coming from Non-English-speaking countries, are required to produce evidence of passing the qualifying examination in English or have IELTS 6.0 with no sub-score below 5.5 or TOEFL (paper) 550, TOEFL (computer) of 213, or TOEFL (IBT) of 79 scores.
If the candidate is above pre-qualification, he/she will have to enroll either for the Intensive Certificate course in the English language or a One Semester Certificate course that is offered by the University.
Make sure to check the above-mentioned eligibility criteria for the Christ University BBA Entrance CUET Exam. After checking the Christ University BBA Entrance CUET Exam, let's look at the CUET Exam Syllabus.
Christ University BBA Syllabus 2022
The syllabus of Christ University BBA 2022 comprises topics from five different sections that are asked in the CUET BBA Exam. For better preparation in order to crack the CUET Exam 2022, candidates must know the syllabus for CUET BBA 2022 exam. Here is the list of topics from which questions are asked in the exam.
Christ University BBA 2022 Syllabus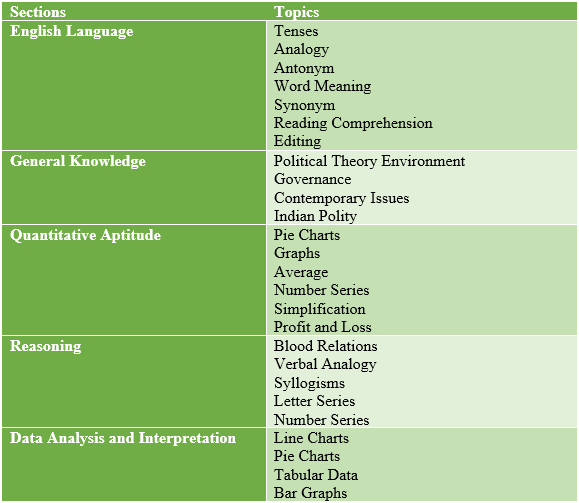 Christ University CUET BBA Entrance Exam Admission process
After checking necessary details about CUET Exam Eligibility Criteria, CUET Exam Important Dates, CUET Exam Syllabus, let us now look at the admission process for the Christ University BBA Entrance Test:
Step- 1: CUET Exam
To get admission to Christ University for the BBA program, a candidate is requested to qualify for the CUET Exam that is held every year by the university. Based on the cut-offs and scores of the CUET Exam, the candidates are then shortlisted for the further admission process.
Step- 2: Micro Presentation (MP)
The shortlisted candidates are called to present a Micro Presentation (MP). In this step, the candidate will be tested on certain parameters like speaking and audience interaction skills. A time limit of 90 seconds will be awarded to the candidate for Micro Presentation.
Step- 3: Skill Test and Personal Interview
After the Micro Presentation, a skill test to check the candidates' communication skills and logical reasoning skills will be checked followed by a Personal Interview with a board of faculty members.
Note: The venue for the shortlisted candidates appearing for Skill Assessment, Micro Presentation, and Personal Interview can be at various locations across Bengaluru, NCR, and Kolkata.
The admission for the BBA Program in Christ University through CUET Exam is finalized based on the cumulative scores in CUET Exam, Micro Presentation, Skill Test, Personal Interview, and 10th and 12th marks.
For any other information, you can directly check the notification on Christ University's official website… Click here to check.
Read More: Christ University BHM Entrance Exam