What is NMIMS NPAT Entrance Exam?
NPAT stands for NMIMS programs after Twelfth. The NPAT BBA entrance exam offers admission to various management programs that are offered by 7 constituent college campuses of SVKM's Narsee Monjee Institute of Management Studies. If you are looking for a full-time undergraduate program from a great college, then NMIMS's NPAT program will be a good fit for you.
The courses offered are:
BBA
B.Sc in Finance
B.Com Hons.
B.Sc. Economics
BBA in Branding & Advertising
Key Features of NMIMS NPAT Exam:
Taking the COVID-19 crisis into consideration, NPAT 2021 exam that was held between 27th June 2021 to 4th July 2021 was conducted as a home-based test. This means that the candidates had to take the NPAT 2021 Exam from their respective home or registered test-taking exam. Here are the Key Features of the NMIMS NPAT Exam:
Out of the three exam dates, a candidate can take the Test 2 times and the highest score among the two tests are to be taken for the admission process.
Print out of NPAT Admit Card is not required.
Candidates are requested to ensure proper infrastructure for taking NMIMS NPAT Online Proctored Test so as to avoid any technical disturbance during the exam window.
There were 120 questions that were divided into three sections with 40 questions in each section in NPAT 2021 Entrance exam.
A Total Cumulative Time of 100 minutes were allotted for the NPAT 2021 Exam.
It is important to note that in NPAT 2021 Exam, the candidates were not allowed to revisit the questions. Meaning, once you've viewed or marked an answer and moved on to the next question, it is not possible to go back to the previous question.
Editing of already marked answers was also not allowed.
So, to make the most out of the NMIMS NPAT exam, candidates are requested to answer the questions accurately.
Infrastructure Requirement to take NPAT 2021
The following requirement should be fulfilled to take NPAT online proctored (OP) test from home:
A decent quality Webcam & microphone
A Desktop/Laptop with Window 7,8,10 or Ubuntu LINUX (14.1 and 16) versions
An uninterrupted Power Supply. Use UPS if necessary.
NUMBER OF SEATS:
Here is the number of seats offered by NMIMS campuses via the NPAT Exam:

Eligibility Criteria for NPAT Exam:
Candidate must have passed 12th standard or equivalent exam.
Minimum 50% marks in 12th standard is required for BBA and B.Sc in Finance programs
Minimum 60% marks in 12th standard is required for B.Com (Hons.)
For BBA/B.Sc. in Finance and B.Com (Hons.) : Mathematics and statistics subjects must be there in the 12th standard
For BBA (Branding & Advertising) : Mathematics or Statistics is not compulsory.
NMIMS NPAT 2021 Exam Pattern:
The NPAT 2021 Exam consisted of 120 questions divided in 3 sections with 40 questions each.
The overall exam timing is 100 minutes.
Marking scheme for NPAT Exam:
+1 awarded for each correct answers
No negative marking for incorrect answer

NMIMS NPAT 2021 Exam Syllabus
English syllabus for NPAT:
Reading Comprehension
Passages
Poems
Synonyms
Anonyms
Dictionary meanings of different words, Syntax, and correct grammar
Language usage and their rules
Quantitative Aptitude, Data Interpretation and Data Sufficiency syllabus for NPAT:
Arithmetic
Algebra
Trigonometry
2D and 3 D Geometry, and Statistic.
Line graph
Bar graph
Tables
Pie chart
Logical Reasoning syllabus for NPAT:
Coding & Decoding,
Strong Arguments and Weak Arguments
Series
Family tree
Multi-dimensional arrangements
Puzzles
List of Colleges accepting NMIMS NPAT Exam: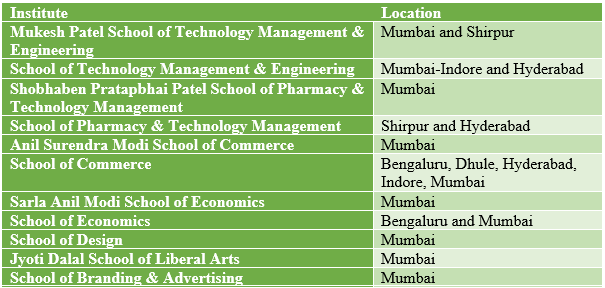 NPAT Exam Important dates