The best CUET Coaching in online & offline mode
CUet Coaching details | CUET Coaching Fees
FundaMakers provides the best coaching for CUET in online mode and offline mode. FundaMakers provides CUET coaching at a very affordable rate keeping in mind the needs of the students who cannot afford very high fees for CUET preparation. Check out our best programs for CUET preparation to help you crack CUET in a single attempt!
CUET Online courses | CUET Online Coaching fees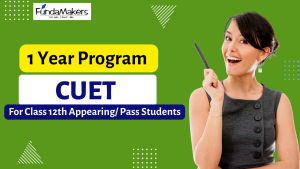 CUET '24
(1 Year Program)
for class 12th Students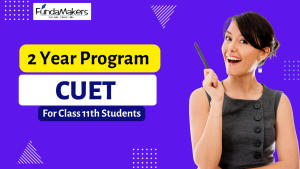 CUET '25
(2 year program)
for class 11th students
cuet offline coaching fees | CUET Classroom Coaching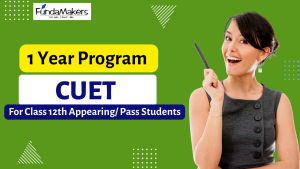 CUET '24
(1 year program)
for class 12th students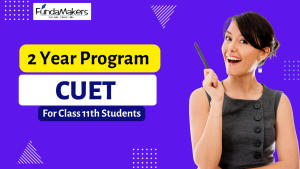 CUET '25
(2 year program)
for class 11th students
Surya sir is extremely talented and professional. The mock interviews for IPMAT IIM Indore, IIM Rohtak etc that he conducted were amazing and informative. It helped us to prepare well for the actual Interview. Overall I would highly recommend FundaMakers IPM Coaching in Lucknow to anyone in need of help.
Best IPM coaching provided for Interview preparation. I attended the sessions for IIM Rohtak (IPM) Personal Interview and finally got in in my first attempt. Highly personalized where one-on-one interviews were taken and also getting to watch our peer's interviews made it a 360 degree experience. One of the best IPM Preparation coaching institutes in our country
I had an amazing experience with FundaMakers IPM Preparation Coaching in Lucknow. It wouldn't have been possible to crack IPM test without Surya sir's help and guidance, for which I'm extremely grateful. Many thanks to the organization for being there to support all of us in all stages (especially interview). I highly recommend their service to any sincere IIM aspirant like me. Don't hesitate to become a premium student member and make the most out of your preparation!!
Fundamakers IPM Preparation tried their best to conduct Very helpful and interactive sessions with Surya sir and other teachers as well during my preparation for PI round of IIM-R and other top institutes as well. A free of cost service only to help the students, is a very rare thing an recognised institution does. Also the classes for Online IPMAT Preparation were also very helpful for papers like CAT, NMIMS etc. Great efforts by the team!
A coaching which is very sincere & dedicated towards its students when it comes to any preparation . Unlike other coaching the teachers don't focus on completing the course but actually helping the student with their regarding questions & especially profile building. I Highly recommend FundaMakers Online IPM Coaching
At Fundamakers IPM Coaching in lucknow you are trained by the professionals to be to be in the competition and be at the top. The Difference is the focus, attention, care, and the immense support you get by the teachers ,staff members, and the efforts that is put in is applausable . The students get complete attention and the support of a Family. "It is not just a coaching class where you come study and leave , it is a family that you become a part of"
I have learnt a lot since I've joined FundaMakers IPM coaching institute. The teachers here have it all, amazing fundas, experience, easy to understand teaching methods. The best thing they provide, that I think other coachings lack, is it's friendly environment which makes the classes very interactive and fun . Also, they have different teachers for subjects that can not only help students with advance level learning but also with basics, as a lot of students do need basic understanding of various topics, especially in quants.
Fundamakers, the best coaching in Lucknow for IPM Preparation under the ace mentorship of Surya sir. Fundamakers Best IPM Coaching believe in individual growth of students not like other brand coachings just money oriented.

Master CAT Preparation with FundaMakers' CAT Topic Wise Questions Introduction: CAT Topic Wise Questions For CAT aspirants aiming to excel in the exam, targeted practice
Read More »

Enhance your CAT preparation with focused Topic Wise Questions at CAT Question Bank from FundaMakers.
Read More »

FundaMakers' IPMAT Coaching understands the importance of flexibility in learning. Online classes are conducted five days a week, with each session lasting two hours. Students can choose between two convenient time slots: 5-7 pm or 9.30-11.00 pm. For those who prefer offline classes, FundaMakers offers coaching at multiple locations in Lucknow, including Aliganj, Gomti Nagar, and Alambagh. Weekend batches are also available to accommodate students with varied schedules.
Read More »
FILL THIS FORM TO ENQUIRE