XAT 2022 Score vs Percentile
XAT exam is considered one of the toughest MBA Entrance Exams due to its distinguished Exam Pattern and Marking Scheme. Here you will find a detailed XAT 2022 Score vs Percentile analysis. With the re-introduction of the Essay Writing Part in the XAT 2022 Exam, the difficulty level of the exam increased exponentially. To make sure that students perform well in the essay writing part, we at FundaMakers released a detailed report on how to write an Essay for XAT 2022.
Another section that is troublesome for the aspirants is Decision Making. Well, if you have followed XAT Decision Making Tips, then you wouldn't have faced any issues.
Now, let's head back to the main topic i.e., what will be the Score vs Percentile for XAT 2022.
There were 2 Sections in the XAT 2022 Exam in which the first section consisted of 74 questions on the following sub-sections, which has the sectional timing of 165 minutes:
QADI- 27
Decision Making- 21
Verbal & Logical Ability- 26
In the second section, the following was the distribution of questions that needs to be solved in 25 mins:
If we talk about the marking scheme of the XAT 2022 Exam, then here is the analysis:
For each correct answer, +1 marks were awarded
For each incorrect answer, 0.25 marks were deducted.
For every 8 unattempted questions, 0.10 marks were deducted.
XAT Score vs Percentile 2022
Based on the analysis of the Previous Year's results combined with the difficulty level of the XAT 2022 exam, it is safe to say that 35+ overall marks will get you a 99+%ile in XAT 2022 exam.
It is important to note that GK & Essay Writing marks are not considered while releasing the Overall Score of the XAT Exam. However, Essay Writing will be considered during the GD-PI process of B-Schools.
Section-Wise Raw Score & Percentile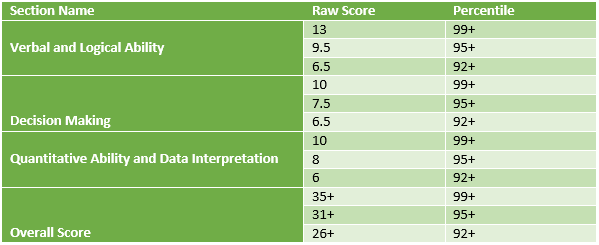 XLRI Jamshedpur's cutoff will be 97+ %ile
| | |
| --- | --- |
| XAT Overall Score | XAT Percentile |
| 35+ | 99+ |
| 33+ | 98+ |
| 31+ | 96+ |
| 27.5 – 29 | 94+ |
| 27 – 27.5 | 93+ |
| 26 – 26.5 | 92+ |
| 25.5 – 26 | 90+ |
| 25 – 25.5 | 88+ |
| 24 – 24.5 | 85+ |
| 18 – 19 | 80+ |
XLRI Jamshedpur Cutoff based on Specific Graduation stream:
Engineer Male: 32-33
Engineer Female: 30
Non- Engineer Male: 30
Non- Engineer Female: 27