How to prepare for DILR Section for CAT?
Data Interpretation and Logical Reasoning (DILR) covers 32% part of the total CAT paper. It is one of those sections whose preparation strategy building is very tricky and is subjective to the mental ability and hard work of the aspirant. In this article, we will be focussing on How to prepare for DILR Section for CAT.
For the past three years, this section has wholly suppressed the other two sections, namely Quantitative Aptitude (QA) and Reading Comprehension & Verbal Ability (RCVA) in terms of difficulty. Data Interpretation and Logical Reasoning (DILR) is mostly about meticulous practice, as there are minimal concepts to learn. You are required to develop some calculative skills, like learning tables from 1 to 30, improving your calculation speed, improvise and learn from your mistakes, and improve your number-crunching skills so that you can tackle questions in few minutes.
A good comprehension skill is crucial to crack this section in the CAT exam as it helps in understanding problems quickly and accurately. To understand the DILR section for CAT, one must solve DILR CAT Past Year questions, this will help you in getting an idea about the types of questions that are asked in the CAT exam.
A decent score in the DILR section for CAT will not only increase the overall percentile in the CAT Exam, but will also be considered in the sectional CAT cutoff. Therefore, it is pivotal during the preparation phase to know how to prepare for the Data Interpretation and Logical Reasoning (DILR) section so that the sectional performance is not compromised. Unlike Quantitative Aptitude, Logical reasoning does not involve the application of concepts. Rather than applying concepts, the candidates must carefully work out the logical conditions to arrive at a missing detail or numbers, which might directly lead to the right answers.
In other words, no primary concept building is required for the DILR section for CAT. You can directly start solving DILR sets for CAT from the previous year actual CAT papers. Just make sure to do the proper analysis of the tests that you have taken.
Key Points on How to Prepare for DILR Section for CAT:
For all the CAT 2021 aspirants who are starting their CAT Preparation or want to start afresh with their DILR Section for CAT Preparation, these key pointers might be helpful:
1. Know the Syllabus:
Data Interpretation and Logical Reasoning (DILR) section for CAT do not have a fixed syllabus that's why aspirants have to worry about how to start and prepare. It is recommended for all CAT 2021 Aspirants to know the DILR syllabus for CAT.
The DILR syllabus for CAT consists of:
Coding-Decoding
Direction Sense
Blood Relations / Family Tree
Verbal Arithmetic
Data Sufficiency
Approximation of Values
Bar Graphs
Pie Charts
Tables
Binary Logic – True / False statements based questions
Pan Balance / Spring Balance
Linear and Circular Seating Arrangements
Matrix and Grid-based Arrangements
Games and Tournaments
Sequential Output
Logical Conditions
Logical Grouping – Questions based on Team Formation
Critical Path
Cubes based problems
Matchstick / Coin picking based problems
Dice Related Problems
Order and Ranking
Maths Based LR Puzzles
Know the Exam Pattern
Generally, In the CAT exam, the DILR section has 32 questions (But, in CAT 2020, the pattern was changed and there were 24 questions in LRDI Section). If you want to have a good score in this section, then you have to crack a minimum of 20 questions with 80% accuracy.
Let's look into the past year cutoff's for various sections of CAT exam. (Score vs Percentile)
CAT- 2019

CAT – 2018

CAT- 2017

CAT- 2016

2. Solve Past Year Papers
Understanding the level and type of questions that are asked in the LRDI section is the first thing that needs to be taken care of. Attempt Previous year's actual CAT paper to analyze and check your efficiency level. This is the next step to prepare for DILR Section for CAT. We at FundaMakers Online CAT Preparation, have recreated CAT Past Year Papers into the Mock Test Format so you can practise DILR CAT Questions in a 1 hour time frame (same as attempting actual CAT Paper).
3. Analyze Past year paper pattern:
After taking the CAT Tests, try to find out the mistakes and critical points that you missed while attempting it. For getting the full benefits of analysis, solve each question first. This will help you in understanding the concepts and solving skills you lacked while solving the questions during the test. Analysing CAT Level DILR Questions will help you learn and implement new strategies which you lacked earlier.
Always remember, "Most fears cannot withstand the test of scrutiny and analysis. When we expose our fears to the light of thoughtful examination, they usually just evaporate."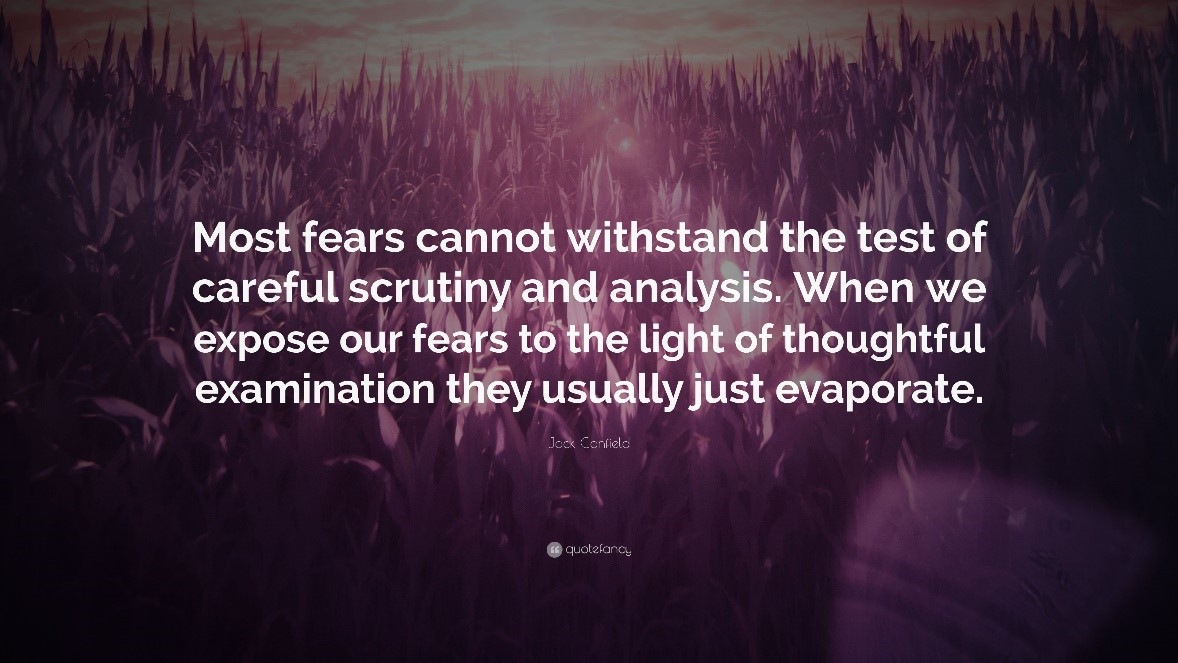 4. Build a suitable preparation strategy:
Since the Data Interpretation and Logical Reasoning (DILR) section in CAT is the most challenging section for all the aspirants. So we need to understand which types of strategy are required to crack it. If you are unable to build a suitable strategy for yourself, seek help from the experts or the mentors from your coaching institute.
If you are preparing self for the CAT exam, don't worry you can always reach out to us. You just have to register here and put your query. We will be happy to help!
5. Know when to Quit:
Sometimes DILR CAT Questions have given very little information or data. For this, the aspirant generally starts solving without analyzing. Less info does not mean a set is too easy, so do not begin any CAT Level DILR Questions quickly without examining. First read all the DILR sets for CAT then make a decision on which sets are more structured, and you have comfortable tackling all the questions in 8 to 10 minutes.
6. Importance of Mock Tests and its analysis
A mock test is a practice exam to prepare students for upcoming examinations. Start with small, straightforward DILR CAT questions and move towards bigger logical-based caseslets. Always analyze your performance after every mock test and review them for genuine feedback about your performance. Utilizing CAT mock tests for this purpose in the best possible way to seek improvement.
7. Consistency is the key: 
In the last 4 to 5 years in the CAT has made DILR section tricky and a little bit challenging, which means you have to prepare well for the DILR section for CAT. For this, while practicing sets, focus on solving typical data sets, beat-offs, and unconventional types of sets so that they help to crack more robust and confusing sets. Make sure to solve 1 set of DI and 1 set of LR a day. This will give you a regular touch.
8. Solving different types of Caselets: 
Caselets is one of the essential topics and type of questions that are asked in the DILR section for CAT. Every CAT DILR Question comes with a set of 3-4 questions. The diversity of caselets will help you to develop lateral thinking. So, make sure to solve different types of caselets every day. Start with sectional mock tests to get a brief on what kind of questions are asked in the paper.
9. Take the calculated risk:
There will be times when you have to take small risks that can be compensated by a good DILR CAT Question. If you have solved five sets correctly and have 5-7 minutes left, try solving one more set even if you know that it is not possible to solve the whole thing. Take a calculated risk by guessing what the answer might be. You might get unimaginable rewards.
10. Efficient time management:
Efficient time management plays a pivotal role in scoring well in the Data Interpretation and Logical Reasoning (DILR) section in the CAT exam. This can easily be improved by following the "Minute Barrier Technique". As defined in the earlier article, this technique helps a candidate in solving sets in a limited amount of time. E.g., rather than solving a full-length mock test, go with those type of tests that have, say 2 sets. This means that a whole DILR Section for CAT of 32 questions or 8 sets (4 questions per set) is divided into 4 tests containing 2 sets each. This will help you in selecting the right set. The time frame for such CAT Level DILR Questions can be set to 15 minutes. Minute Barrier Technique focuses on improving the selection of questions that can boost your score in the DILR Section for CAT exam exponentially.
11. Calm your Mind
Since you might be preparing for a while for CAT 2021 or other management entrance tests, it is natural to assume that you will be able to solve a maximum number of questions. While attempting the paper, don't let your ego get the best of you. If a DILR set for CAT is taking too much time, leave it and move on to the next set. Don't panic in that situation. Think your way through it. Keeping calm and composed will enhance your capacity to score more in the exam.
"Calmness is human superpower. The ability to not overreact or take things personally keeps your mind clear and your heart at peace.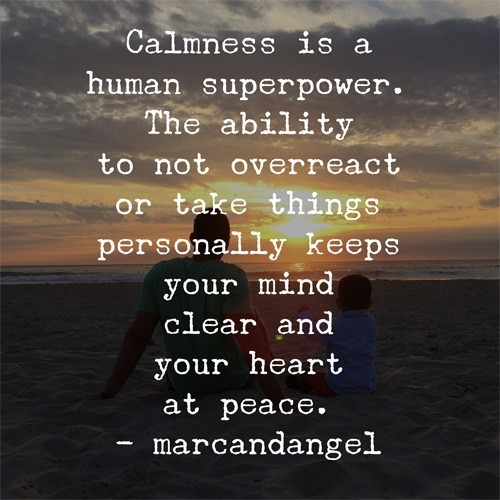 Or else you might end up like this: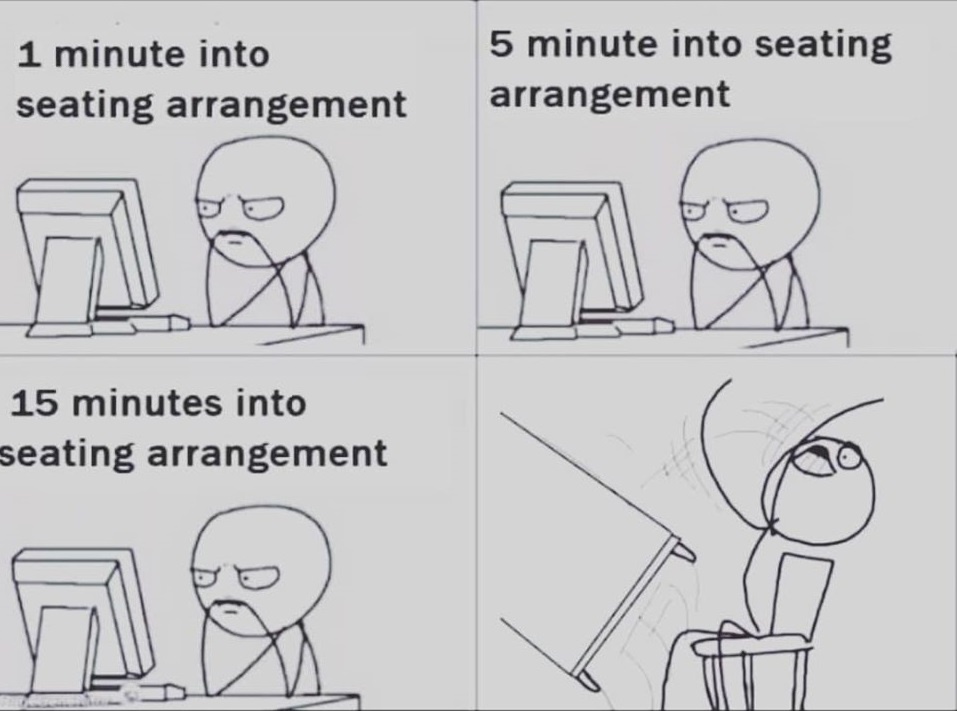 12. Motivation is the Key
There will be times when you feel disheartened or are not able to see the growth in the DILR Section for CAT that you might be expecting even after regular practice. In those times, remember why you are preparing for this and what it could do to you.
Stay confident that you will Crack the CAT exam and will get into your dream B-School.

A Good NEWS…
If DILR is the only section that gives you nightmares then we at FundaMakers Online CAT Preparation have good news for you…
We have launched a DILR Specific Course "CAT 22 DILR Conqueror" in which we offer the following perks:
1- Access to Online Live Classes (DILR Section)
2- 60+ conceptual videos to help you grasp the basics.
3- 250+ CAT level DILR Sets practice
4- 50+ Practise sessions of highly relevant DILR Sets for CAT.
5- All India Mock Tests for CAT (FREE with this course)
(225+ Topic Wise Tests | 30 Sectional Tests | 15 All India FundaCATs | 10 Full-Length Mock Test for Practise)
6- Free GDPI Preparation.
All this at an exclusive price of Rs 7999*
Call at 9598333344 to know more about the course or to book a demo class.
Hope this article on How to prepare for DILR Section for CAT will be helpful!
All the Best!!
CAT Resources:
To help you crack CAT-2022 with ease, we at Fundamakers is offering FREE Practise Sessions covering each and every topic related to Logical Reasoning & Data Interpretation (LRDI) , Quantitative Aptitude (QA) and Reading Comprehension & Verbal Ability (RCVA)
Subscribe to our YouTube channel now!!
For 24×7 Doubt Resolving, join our Facebook Group: FundaMakers- CAT Prep
For Latest B-School Updates & much more, Join our Telegram Channel now!
Read More:
Looking for the BEST CAT Coaching in Lucknow, well, you have to wander no more…
Check out the features of FundaMakers- Best CAT Institute in Lucknow